Travel Products
France by Design is your one-stop resource for finding everything you need to create your dream vacation. For leisure or corporate travel, for individuals or groups, we offer our professional expertise with the sale of the following travel components:
airline tickets originating in the USA
rail passes & point-to-point rail tickets
accommodations
car & minivan rental
airport & rail station transfers
private-guided half-day, full-day, and extended stay tours
gourmet cooking classes
trip insurance
museum passes
custom-designed small group getaways
Travel Services
(click to jump to section)
Best Value
Consultation Only
Itinerary Planning Services
Personalized Guidebook
Payment Terms & Conditions
Best Value
When you request a trip blueprint form, you will select an option for our services that best suits your needs. The best value for your travel dollar is available when you book your complete vacation with us. All of the travel products we sell are competitively priced. You get the added benefit of our verbal planning advice at no extra charge.
*Please note the description of our written itinerary plans which are available at an additional flat fee rate.
back to top
Consultation Only
If you prefer to handle most of your own travel planning, you may want expert advice before you get too far. Our advice could save you hassles, time, and money. Our consultation rate is $65 per hour with a minimum requirement one hour. After determining the amount of consultation time you need, you will send a $65 deposit/payment by check to France by Design or make a payment by PayPal, then your phone consultation will be scheduled. If you live outside of the U.S., there may be an additional phone charge.
back to top
Itinerary Planning Services
If you would like a carefully organized written itinerary, we offer the following flat fee options:
1-3 day customized itinerary: $150
4-6 day customized itinerary: $250
7-9 day customized itinerary: $300
10-12 day customized itinerary: $350
Please note that your written itinerary is prepared on our standard 8 ½" x 11" business stationery.
What is included:
analysis of your time frame for each location
assistance with all transportation & lodging bookings
research, recommendations, and bookings for activities that match your interests
fine-tuned documents with day-by-day descriptions, booking reference numbers, and vital contact information.
Personalized Guidebook
When you purchase our itinerary planning services you have the option to upgrade your itinerary in the form of an attractive, handy guidebook. Your personalized guidebook also doubles as a trip memento.
(Click book to see what is included.)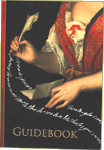 Pricing is determined based on the level of complexity and the length of your trip. Our personalized guidebook prices range from $100-$200 USD. Copies for additional members of your party using the same itinerary are $50 USD each.
back to top
Terms and Conditions
Please contact us at least six weeks in advance for our itinerary planning and personalized guidebooks. Planning begins after receiving your 50% deposit either by check or by PayPal. Final payment is due upon completion of your project.
Checks should be made out to France by Design.
Check payments accepted for those with US bank accounts only.
Credit card payments can by made through PayPal.
Please note that service fees will apply for payments in currencies other than US dollars.